These pictures are not my favorites out of my Peter Pilotto series. They were the first ones we took and turned out way too dark. After some editing I think I made them as good as they were going to get. For this inspirational post I wanted to talk about something I believe is a big part in finding yourself, shutting up that inner critic. I found two little ways that help me.
The first is when too many negative thoughts start to come, take a really long deep breath in, hold it for a sec and then let it out. Do this a couple more times, maybe with your eyes closed, and you well feel more in your body.
The second thing to think about is, who is this inner critic, why is it there? Our inner critic is just our own thoughts, nothing more than a figment of our imagination.  Imagine this scenario, you have a presentation to do, you have to go up in front of people and talk, suddenly you get really nervous and you tell yourself that you're not enough, that you cant do this. Stop for a second. What is it that your afraid of? Imagine if the entire class gets up, points at you, and laughs. It's very unlikely that that will happen but even if it did, so what? Who cares what these people think. If they are really small enough to get up and laugh, their opinion clearly doesn't matter. Even if you don't feel totally confident, just fake it till you make it, it works.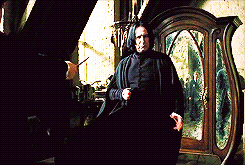 This topic reminded me of this scene from Happy Potter,  imagine your scary audience looks incredibly silly, just don't picture them naked… Thats just weird.